shank
(redirected from terminal shank)
Also found in:
Dictionary
,
Thesaurus
,
Medical
.
shank
1. Anatomy the shin
2. the corresponding part of the leg in vertebrates other than man
3. Engineering a ladle used for molten metal
4.
Music
another word for
crook
shank
[

shaŋk

]

(design engineering)

The end of a tool which fits into a drawing holder, as on a drill.
shank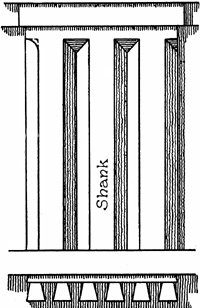 1. One of the plain spaces between the channels of a triglyph in a Doric frieze.
2. That part of a tool which connects the acting part with the handle.
3. The body of a fastener, such as a nail or bolt, i.e., the portion between the head and the point.