Texture
(redirected from texturally)
Also found in:
Dictionary
,
Thesaurus
,
Medical
.
texture
1. the structure, appearance, and feel of a woven fabric
2. Art the representation of the nature of a surface
3.
a. music considered as the interrelationship between the horizontally presented aspects of melody and rhythm and the vertically represented aspect of harmony
b. the nature and quality of the instrumentation of a passage, piece, etc.
Collins Discovery Encyclopedia, 1st edition © HarperCollins Publishers 2005
Texture
The tactile and visual quality of a surface as distinct from its color or form; as showing a grainy, coarse, tactile or dimensional quality, as opposed to uniformly flat or smooth.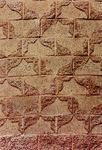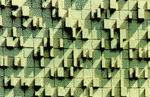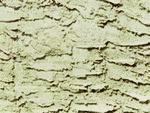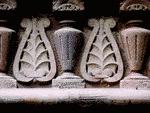 Illustrated Dictionary of Architecture Copyright © 2012, 2002, 1998 by The McGraw-Hill Companies, Inc. All rights reserved
The following article is from The Great Soviet Encyclopedia (1979). It might be outdated or ideologically biased.
Texture
the phenomenon of preferred orientation of crystalline grains in polycrystals or of molecules in such amorphous solids as liquid crystals and certain polymers, causing anisotropy in the properties of the materials.
Texture may arise under the action of elastic stresses, heat, electric and magnetic fields, and combinations of these factors. For example, thermomechanical treatment and magnetic annealing of materials produces a texture. A distinction is made between axial textures with a preferred orientation of certain crystalline grains or molecules relative to one direction (a texture axis) and plane textures with an orientation relative to a texture plane. Textures are called full if a plane and a separate texture axis are present. The formation of a complex texture with several types of orientation is possible. It is usually not the case that all elements are oriented. Orientations are scattered relative to individual axes and planes. The distribution of orientations is characterized by pole figures, which are determined by X-ray diffraction analysis. Optical methods are also standard techniques for studying texture.
Textures develop during mass crystallization, epitaxial growth, adsorption, phase transitions, vacuum deposition, electrodeposition, and the crystallization and deformation of polymer materials. Textures also arise during casting, drawing, rolling, and pressing of metals and during other types of treatment of materials.
Textured materials are employed in technology. The textures may involve piezoelectric (seePIEZOELECTRIC CERAMICS), optical (seePOLARIZER, SHEET), or magnetic characteristics of the materials. Textures are found in plant and animal tissues, articles made from natural fibers, and other materials.
REFERENCES
Kudriavtsev, I. P. Tekstury v metallakh i splavakh. Moscow, 1965.
Shubnikov, A. V. P'ezoelektricheskie tekstury. Moscow-Leningrad, 1946.
Bunn, C. "Tekstura polimerov." In Volokna iz sinteticheskikh polimerov. Edited by R. Hill. Moscow, 1957. (Translated from English.)
Vainshtein, B. K. Difraktsiia rentgenovykh luchei na tsepnykh molekulakh. Moscow, 1963.
---
Texture
in magnetic materials, the phenomenon of preferred spatial orientation of the directions of easy magnetization in a ferromagnetic or ferrimagnetic polycrystalline specimen, as a result of which the specimen possesses magnetic anisotropy. Such texture arises when a specimen is subjected to uniaxial mechanical stresses that cause a preferred orientation of the crystallites, or a crystallographic texture. It also arises during thermomechanical treatment and during magnetic annealing, or heat treatment of the specimen below its Curie temperature in the presence of a magnetic field. The development of a texture in magnetic materials offers the possibility of sharply improving the magnetic properties of certain ferromagnetic materials.
Soft-magnetic materials with a preferred orientation of the directions of easy magnetization include crystallographically textured transformer steel, Perminvar, and such Permalloys as 50 NP and 65 NP. Imparting a texture to these materials reduces the coercive force, hysteresis losses, and other hysteresis-related phenomena. The development of a texture in such hard-magnetic materials as Magnico, Ticonal, and barium and cobalt ferrites increases, for example, the coercive force and remanence.
REFERENCES
Metally i splavy v elektrotekhnike [3rd ed.], vols. 1–2. Moscow-Leningrad, 1957.
Preobrazhenskii, A. A. Teoriia magnetizma, magnitnye materialy i elementy. Moscow, 1972.
---
Texture
in metals, the phenomenon of preferred orientation of the crystal lattice of grains, or crystallites, in a metal object.
A texture is described by indicating the crystallographic axes that correspond to particular directions in a metal object, for example, the axis of a wire or rod and the direction of rolling or the normal to a crystal plane in a rolled sheet or strip. Different grains in polycrystalline objects may have the same or different preferred orientations; these two cases correspond to fiber and inhomogeneous textures, respectively. The texture of a metal is characterized by the relative volume of crystallites with a similar orientation and also by the scatter of grain orientation around a certain mean orientation. Texture arises during casting, plastic deformation and subsequent annealing (recrystallization), electrodeposition, spraying, and other treatments of metals.
Textured polycrystalline objects have an anisotropy of their mechanical and physical properties that approaches the anisotropy of the properties of single crystals. In some cases, a texture is produced intentionally, as in transformer steel, deep-drawn steel, and permanent magnetic alloys. Attempts are made to remove the texture in other cases—for example, in deep-drawn copper and aluminum plate alloys.
REFERENCES
Kudriavtsev, I. P. Tekstury v metallakh i splavakh. Moscow, 1965.
Wassermann, G., and J. Grewen. Tekstury metallicheskikh materialov, 2nd ed. Moscow, 1969. (Translated from German.)
The Great Soviet Encyclopedia, 3rd Edition (1970-1979). © 2010 The Gale Group, Inc. All rights reserved.
texture
[

′teks·chər

]

(crystallography)

The nature of the orientation, shape, and size of the small crystals in a polycrystalline solid.

(geology)

The physical nature of the soil according to composition and particle size.

(petrology)

The physical appearance or character of a rock; applied to the megascopic or microscopic surface features of a homogeneous rock or mineral aggregate, such as grain size, shape, and arrangement.

McGraw-Hill Dictionary of Scientific & Technical Terms, 6E, Copyright © 2003 by The McGraw-Hill Companies, Inc.
texture
The tactile and visual quality of a surface or substance other than its color.
McGraw-Hill Dictionary of Architecture and Construction. Copyright © 2003 by McGraw-Hill Companies, Inc.
texture
(graphics)

A measure of the variation of the intensity of a surface, quantifying properties such as smoothness, coarseness and regularity. It's often used as a region descriptor in image analysis and

computer vision

.

The three principal approaches used to describe texture are statistical, structural and spectral. Statistical techniques characterise texture by the statistical properties of the grey levels of the points comprising a surface. Typically, these properties are computed from the grey level

histogram

or grey level

cooccurrence matrix

of the surface.

Structural techniques characterise texture as being composed of simple primitives called "texels" (texture elements), that are regularly arranged on a surface according to some rules. These rules are formally defined by grammars of various types.

Spectral techiques are based on properties of the Fourier spectrum and describe global periodicity of the grey levels of a surface by identifying high energy peaks in the spectrum.

This article is provided by FOLDOC - Free Online Dictionary of Computing (foldoc.org)