Tholos
(redirected from tholoi)
Also found in:
Dictionary
.
Tholos
(also tholus), a round, usually monumental ritual structure, such as a sepulcher or temple. From the 16th to the 12th centuries B.C., tholi were built in Crete, in Greece (for example, the tholos in Epidaurus; 360–330 B.C., architect Polycleitus the Younger), in Delphi (early fourth century B.C., architect Theodorus of Phocaea), and on the western coast of Asia Minor.
The most impressive tholi, which measure as much as 14 m in height and 14 m in diameter and date from the 14th century B.C., were discovered in Mycenae. In Thessaly and Crete, such structures were built as late as the eighth century B.C. Tholi built under burial mounds in the seventh and sixth centuries B.C. have been found in Etruria, and examples from the fifth and fourth centuries B.C. were discovered in Thrace. The examples in Thrace are similar to the crypts of the Zolotoi (Golden) Barrow and the Tsarskii (Royal) Barrow, structures of the fourth century B.C. near Kerch'.
REFERENCE
Dinsmoor, W. B. The Architecture of Ancient Greece. London [and others], 1950. Pages 224–36.
tholos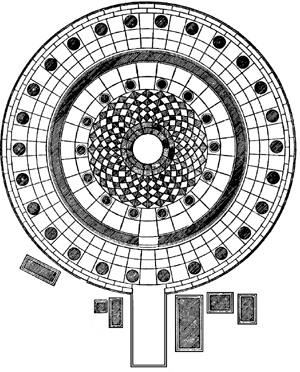 1. In Greek architecture, any round building.
2. The corbeled, domed tombs of the Mycenaean period.
3. A domed rotunda.