tie
Also found in:
Dictionary
,
Thesaurus
,
Medical
,
Legal
,
Financial
,
Acronyms
,
Idioms
,
Wikipedia
.
tie
1. a structural member carrying tension, such as a tie beam or tie rod
2.
the US and Canadian name for
sleeper
(on a railway track)
3. Music a slur connecting two notes of the same pitch indicating that the sound is to be prolonged for their joint time value
Collins Discovery Encyclopedia, 1st edition © HarperCollins Publishers 2005
The following article is from The Great Soviet Encyclopedia (1979). It might be outdated or ideologically biased.
Tie
a support for rails in the form of a beam laid on top of the ballast layer of the roadbed. Ties ensure that the positions of the two rails do not change with respect to each other. They accept pressure from the rails and transmit it to the ballast layer. In the USSR ties are made of reinforced concrete (270 cm long) or wood (primarily softwoods) impregnated with antiseptics (275, 280, and 300 cm long); some foreign ties are made of metal. One kilometer of railroad track requires 1,600,1,840, or 2,000 ties.
The Great Soviet Encyclopedia, 3rd Edition (1970-1979). © 2010 The Gale Group, Inc. All rights reserved.
tie
[

tī

]

(civil engineering)

One of the transverse supports to which railroad rails are fastened to keep them to line, gage, and grade.

(electricity)

Electrical connection or strap.

(engineering)

A beam, post, rod, or angle to hold two pieces together; a tension member in a construction.

(mining engineering)

A support for the roof in coal mines.

McGraw-Hill Dictionary of Scientific & Technical Terms, 6E, Copyright © 2003 by The McGraw-Hill Companies, Inc.
tie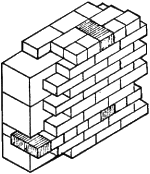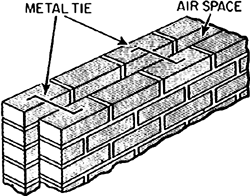 1.
Any unit of material which connects two parts, as masonry to masonry. Also see
wall tie
.
2. A framing member which sustains only a tensile load; a member in tension to prevent spreading.
3. In surveying, a connection from a point of known position to a point whose position is desired.
McGraw-Hill Dictionary of Architecture and Construction. Copyright © 2003 by McGraw-Hill Companies, Inc.