tee
(redirected from to a tee)
Also found in:
Dictionary
,
Thesaurus
,
Medical
,
Idioms
.
tee
1
Golf
1. an area, often slightly elevated, from which the first stroke of a hole is made
2. a support for a golf ball, usually a small wooden or plastic peg, used when teeing off or in long grass, etc.
---
tee
2
a mark used as a target in certain games such as curling and quoits
Tee
A finial in the form of a conventionalized umbrella; found in Japanese architecture on stupas and pagodas.
tee
[

tē

]

(engineering)

Shaped like the letter T.
tee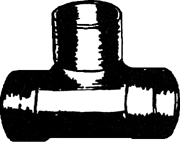 1.
A
finial
in the form of a conventionalized umbrella, used on stupas, topes, and pagodas.
3. A metal member having a constant T-shaped cross section.
tee
(tool, operating system)

A

Unix

command which copies its

standard input

to its

standard output

(like

cat

) but also to a file given as its argument. tee is thus useful in pipelines of

Unix

commands (see

plumbing

) where it allows you to create a duplicate copy of the data stream. E.g.

egrep Unix Dictionary | tee /dev/tty | wc -l

searches for lines containing the string "Unix" in the file "Dictionary", prints them to the terminal (/dev/tty) and counts them.

Unix manual page

: tee(1).