toolbar
Also found in:
Dictionary
,
Thesaurus
,
Medical
,
Wikipedia
.
toolbar
[

′tül'bär

]

(computer science)

A row or column of on-screen push buttons containing icons that represent frequently accessed commands.
toolbar
(operating system)

A common

graphical user interface

component, consisting of a permanently visible row of button icons that, when clicked with the

mouse

, cause the program to perform some action such as printing the current document or changing the

mode

of operation.

The toolbar buttons often invoke functions accessible via menus but they are easier to use since they are permanently visible. A typical use would be in a

paint

program where the toolbar allows the users to select one of the various painting "tools" - brush, pencil, bucket etc.

Some application programs under some operating systems may allow the user to customise the functions accessible via toolbars; in others, the choice is fixed by the programmer.
toolbar
A row or column of on-screen buttons used to activate functions or change modes in an application. Many toolbars are customizable, letting users add and delete buttons as required. Toolbars may be fixed in position or float around the screen. For example, floating toolbars are common in graphics applications so they can be moved into the canvas area near the objects being worked on. See tool palette, taskbar, tool and toolkit.




Real Tools!
Most toolbar buttons display only icons such as these from VTEL's videoconferencing software. Some toolbars include text descriptions.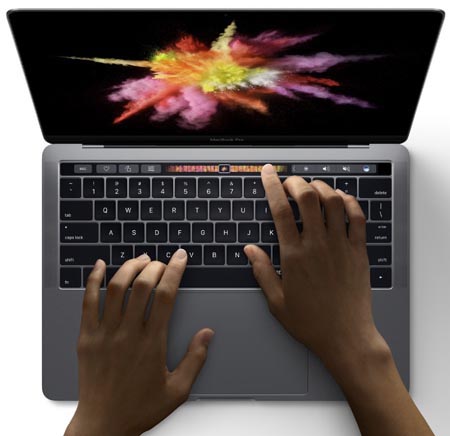 A Very Innovative Toolbar
The 2016 line of MacBook Pro laptops introduced an extremely useful touchscreen toolbar in place of physical function keys. Each application can display its most important functions for the entire app or change functions based on the process that is running. See MacBook. (Image courtesy of Apple Inc.)