tope
(redirected from topers)
Also found in:
Dictionary
,
Thesaurus
.
tope:
see stupastupa
[Sanskrit,=mound], Buddhist monument in tumulus, or mound, form, often containing relics. The words tope and dagoba are synonymous, though the latter properly refers only to a Sinhalese Buddhist stupa.
.....

Click the link for more information.

.

The Columbia Electronic Encyclopedia™ Copyright © 2013, Columbia University Press. Licensed from Columbia University Press. All rights reserved.

www.cc.columbia.edu/cu/cup/
stupa, tope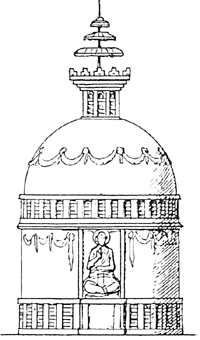 A Buddhist memorial mound, erected to enshrine a relic or to commemorate a sacred site; consists of an artificial mound, raised on a platform and surrounded by an outer ambulatory with a stone railing and four gateways, crowned by a multiple sunshade.
McGraw-Hill Dictionary of Architecture and Construction. Copyright © 2003 by McGraw-Hill Companies, Inc.
tope
1. a small grey requiem shark, Galeorhinus galeus, of European coastal waters
2. any of various other small sharks
Collins Discovery Encyclopedia, 1st edition © HarperCollins Publishers 2005