Trapezium
Also found in:
Dictionary
,
Thesaurus
,
Medical
,
Wikipedia
.
trapezium
1. Chiefly Brit a quadrilateral having two parallel sides of unequal length
2. Now chiefly US and Canadian a quadrilateral having neither pair of sides parallel
3. a small bone of the wrist near the base of the thumb
Trapezium
(tră-pee -zee-ŭm) A very young open cluster of stars, protostars, gas, and dust that lies in the Orion nebula and is part of the Orion association. There are four prominent young main-sequence stars, which form the multiple star θ1 Orionis and are of spectral class O6, B1, B1, and B3. These stars excite and ionize the nebula. They form a trapezium and are visible with a small telescope.
Trapezium
the multiple star θ1 Orionis, located in the middle part of the Great Nebula of Orion. The star has nine known components, the four brightest of which (A, B, C, and D in Figure 1) form the vertices of a trapezium.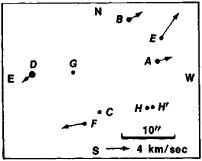 In 1949, V. A. Ambartsumian discovered a number of similar stellar systems, in which the distances between components are of the same order of magnitude. Such systems came to be called Trapezium-type multiple stars. The periodic orbital motions observed in ordinary multiple stars are unlikely in Trapezium systems; consequently, such systems should be regarded as unstable and in the process of breaking up. According to Ambartsumian's determinations, Trapezium systems break up in a few million years. It follows that such systems observed at the present time cannot be older than a few million years and are therefore young formations. A considerable number of Trapezium-type multiple stars are found in stellar associations.
trapezium
[

trə′pē·zē·əm

]

(mathematics)

A quadrilateral where no sides are parallel.
---
Trapezium
[

trə′pē·zē·əm

]

(astronomy)

Four very hot stars that appear to the eye as a single star in the Great Nebula of Orion; the star symbol is M42.