cellular hotspot
(redirected from traveling hotspot)
cellular hotspot
A cellular hotspot converts cellular signals to Wi-Fi and vice versa to provide Internet access for email, websites and other data transfers. A local Wi-Fi hotspot can be created using the following devices (see Wi-Fi hotspot).

Smartphone Hotspots
Smartphones have both cellular and Wi-Fi built in, and most phones can cross-connect the two to become a portable hotspot for laptops and tablets. Also called "tethering."

Mobile Hotspots
All carriers offer portable units. Also called a "portable hotspot," "personal hotspot," "mobile Wi-Fi," "mobile router," "mobile wireless router" and "travel router," the cellular fee is either added to the user's existing data plan, or a new plan must be activated.

However, a stand-alone hotspot is one more thing to travel with. To avoid packing yet another device, cellular service can be added to laptops by plugging in a USB dongle (see cellular modem). Tablets can also be purchased with a built-in cellular modem just like Wi-Fi, which is always standard equipment. The tablet's cellular phone number must be activated with a carrier.

Vehicle Hotspots
Built-in units provide a Wi-Fi hotspot within the cabin of a car or truck. In-vehicle cellular hotspots are available for many makes and models, and third-party devices are also made that plug into the car's diagnostic port (see OBD).

Stationary Hotspots
Typically called a "mobile broadband router," stationary units include a full-blown Wi-Fi base station that supports more devices over a wider range than a mobile hotspot. See mobile broadband router. See Wi-Fi vs. cellular.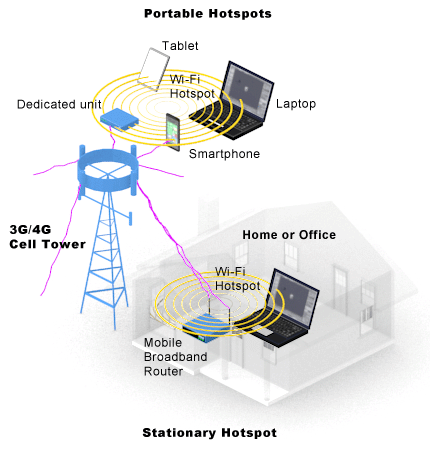 Portable or Stationary
Wi-Fi hotspots can be created when traveling or at home.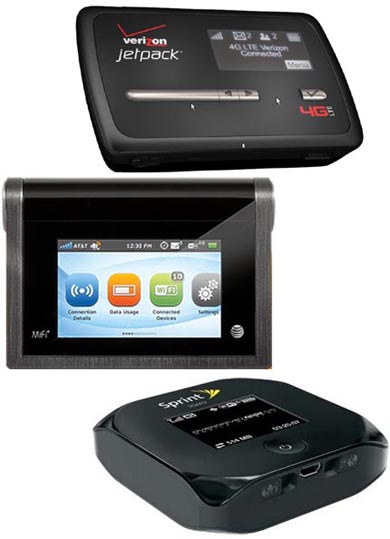 Widely Available
These Verizon, AT&T and Sprint (now T-Mobile) devices create hotspots as long as they find a cellular signal. (Images courtesy of Verizon, AT&T and Sprint.)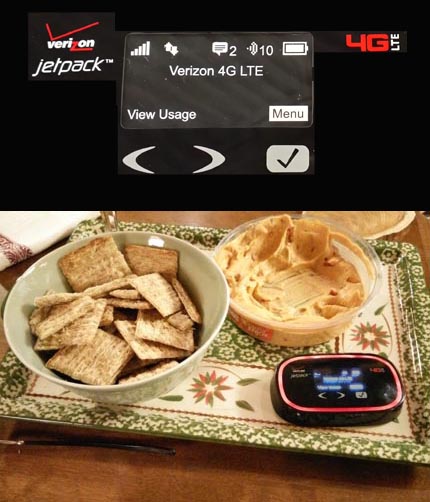 Put It Anywhere
The advantage of a mobile hotspot is its portability.
Copyright © 1981-2019 by The Computer Language Company Inc. All Rights reserved. THIS DEFINITION IS FOR PERSONAL USE ONLY. All other reproduction is strictly prohibited without permission from the publisher.