trefoil
Also found in:
Dictionary
,
Thesaurus
,
Medical
,
Wikipedia
.
trefoil
(trē`foil)

[O.Fr.,=three-leaf], in botany, name for several plants, chiefly of the pulsepulse,
in botany, common name for members of the Fabaceae (Leguminosae), a large plant family, called also the pea, or legume, family. Numbering about 650 genera and 17,000 species, the family is third largest, after the asters and the orchids.
.....

Click the link for more information.

family, having trifoliate leaves. Best known of the trefoils is clover. The bird's-foot trefoil (Lotus corniculatus) is an Old World forage plant and weed that has been naturalized in North America; the prairie trefoil (L. americanus) is a related native American plant. The shrubby trefoil is the hophop,
herbaceous perennial vine of the family Moraceae (mulberry family), widely cultivated since early times for brewing purposes. The commercial hop (Humulus lupulus
.....

Click the link for more information.

tree. Tick trefoil is a name for the tickseed, or beggarweedbeggarweed
or tick trefoil,
leguminous plant (Desmodium purpureum) native to the West Indies and sown in the S United States for green manure and for forage; it has high nutritive value and is palatable to stock.
.....

Click the link for more information.

.
trefoil
1. A three-lobed cloverleaf pattern.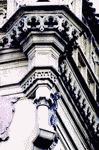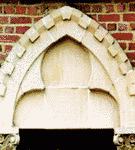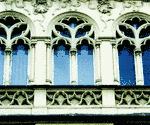 2.
An architectural ornament resembling a three-leaf clover. See also:
Ornament
trefoil
[

′trē'fȯil

]

(mathematics)

A multifoil consisting of three congruent arcs of a circle arranged around an equilateral triangle.
trefoil
In an opening, a three-lobed pattern separated by
cusps
; See
foil
.
trefoil (clover)
emblem of the Trinity. [Christian Symbolism: Cirlot, 50–51]
---
trefoil
traditional symbol of vengeance. [Flower Symbolism: Flora Symbolica, 178]
trefoil
1. any of numerous leguminous plants of the temperate genus Trifolium, having leaves divided into three leaflets and dense heads of small white, yellow, red, or purple flowers
2. any of various related plants having leaves divided into three leaflets, such as bird's-foot trefoil
3. a leaf having three leaflets
4. Architect an ornament in the form of three arcs arranged in a circle