trellis
(redirected from trellising)
Also found in:
Dictionary
,
Thesaurus
.
trellis
a structure or pattern of latticework, esp one used to support climbing plants
trellis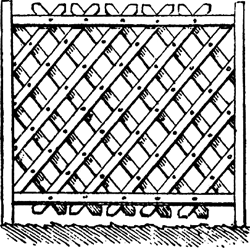 1. An open grating or latticework, of either metal or wood.
2.
An arbor or framework for the support of vines; a
treillage
.
Trellis
(1)
Trellis
(2)

An

object-oriented

application development system from

DEC

, based on the

Trellis

language. (Formerly named Owl).

E-mail: Jerry Smith <smith@pipe.enet.dec.com>

["Persistent and Shared Objects in trellis/owl", P. O'Brien et al, Proc 1986 IEEE Workshop on Object-Oriented Database Systems, IEEE, NY 1986].