turboprop engine
Also found in:
Dictionary
,
Thesaurus
,
Acronyms
.
The following article is from The Great Soviet Encyclopedia (1979). It might be outdated or ideologically biased.
Turboprop Engine
an aircraft gas-turbine engine in which primary thrust is developed by a propeller and additional thrust (up to 8–12 percent) is produced by a gas jet flowing from a jet nozzle. Turboprop engines are used in subsonic airplanes and in helicopters.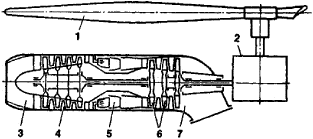 Atmospheric air that enters the engine in flight is compressed in an air intake and further compressed in a turbocompressor. The air is then supplied to a combustion chamber into which a liquid chemical fuel, usually aviation kerosene, is injected. The gases formed during the combustion of the fuel expand in a turbine, which turns the compressor and the propeller; the final expansion of the gases occurs in the jet nozzle. A reduction gear is used to match the rotational speeds of the turbocompressor rotor and the propeller or, in a helicopter, to transmit torque to the helicopter rotor, whose axis is at an angle to the axis of the turbine. In helicopters the compressor and the helicopter rotor are usually driven by turbines that are not mechanically connected. (See alsoAIRCRAFT ENGINE.)
The Great Soviet Encyclopedia, 3rd Edition (1970-1979). © 2010 The Gale Group, Inc. All rights reserved.
turboprop engine
An Illustrated Dictionary of Aviation Copyright © 2005 by The McGraw-Hill Companies, Inc. All rights reserved