turning circle
Also found in:
Dictionary
,
Wikipedia
.
turning circle
the smallest circle in which a vehicle can turn
Collins Discovery Encyclopedia, 1st edition © HarperCollins Publishers 2005
The following article is from The Great Soviet Encyclopedia (1979). It might be outdated or ideologically biased.
Turning Circle
(in Russian, tsirkuliatsiia sudna), the path of the center of gravity of a ship when the ship's rudder is turned through some angle and held in that position. The Russian term tsirkuliatsiia sudna is also frequently applied to the process of turning a ship.
The turning of a ship consists of a maneuvering phase, an evolutionary phase, and a steady-state phase. The maneuvering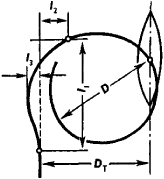 phase coincides with the time interval during which the rudder is swung. The evolutionary phase lasts from the moment the rudder is held at a constant angle to the moment the elements of the ship's motion cease changing with time. During the first two phases, the path of the ship's center of gravity is a line of varying curvature; during the steady-state phase, the path is a circle (Figure 1).
The elements of a turning circle are the steady-turning diameter D, the tactical diameter DT, the advance l1, the transfer l2, and the offset l3. The determination of these elements is an important step in the evaluation of a ship's maneuverability. The course of a ship cannot be plotted, especially during maneuvers, if the elements of the turning circle are not known. An element of a turning circle is determined by computation and is checked during sea trials.
REFERENCES
Fediaevskii, K. K., and G. V. Sobolev. Upravliaemost' korablia. Leningrad, 1963.
Voitkunskii, la. I., R. la. Pershits, and I. A. Titov. Spravochnik poteorii korablia: Sudovye dvizhiteli i upravliaemost', 2nd ed. Leningrad, 1973.
The Great Soviet Encyclopedia, 3rd Edition (1970-1979). © 2010 The Gale Group, Inc. All rights reserved.
turning circle
[

′tərn·iŋ 'sər·kəl

]

(navigation)

The path approximating a circle of 360° or more described by the pivot point of the ship as it makes a turn.

McGraw-Hill Dictionary of Scientific & Technical Terms, 6E, Copyright © 2003 by The McGraw-Hill Companies, Inc.