U
(redirected from u's)
Also found in:
Dictionary
,
Thesaurus
,
Medical
,
Financial
.
U,
honorific used in Myanmar. See second part of name (e.g., Thant, UThant, U
, 1909–74, Burmese diplomat, secretary-general of the United Nations (1962–72). Educated at University College, Yangon, he later held positions in education, the press, and broadcasting.
.....

Click the link for more information.

).
---
U,
21st letter of the alphabetalphabet
[Gr. alpha-beta, like Eng. ABC], system of writing, theoretically having a one-for-one relation between character (or letter) and phoneme (see phonetics). Few alphabets have achieved the ideal exactness.
.....

Click the link for more information.

, corresponding to the Greek upsilon [Gr.,=u without the aspirate]. Until the late Middle Ages the capital was V, the minuscule u, no distinction being made between the consonantal and vocalic uses of the letter. The fixing of modern orthography, however, has restricted u to the vowel, v to the consonant. In phonetics ŭ usually represents a high back rounded vowel, rather like o͝o in foot; English ū is a triphthong of y, o͝o, and w as in utensil; the Continental ū, or o͞o, is a diphthong of o͝o and w, as in glue. In chemistry, U is the symbol of the element uraniumuranium
, radioactive metallic chemical element; symbol U; at. no. 92; mass number of most stable isotope 238; m.p. 1,132&degC;; b.p. 3,818&degC;; sp. gr. 19.1 at 25&degC;; valence +3, +4, +5, or +6.
.....

Click the link for more information.

.

The Columbia Electronic Encyclopedia™ Copyright © 2013, Columbia University Press. Licensed from Columbia University Press. All rights reserved.

www.cc.columbia.edu/cu/cup/
u
(particle physics)
---
U
(chemistry)
McGraw-Hill Dictionary of Scientific & Technical Terms, 6E, Copyright © 2003 by The McGraw-Hill Companies, Inc.
U
(Unit) A unit of measurement (1.75") of the height of a rack-mounted device. Thus, a 1U product has a vertical measurement of 1.75"; 2U is 3.5"; 3U is 5.25" and so on. See rack mounted. See also U interface.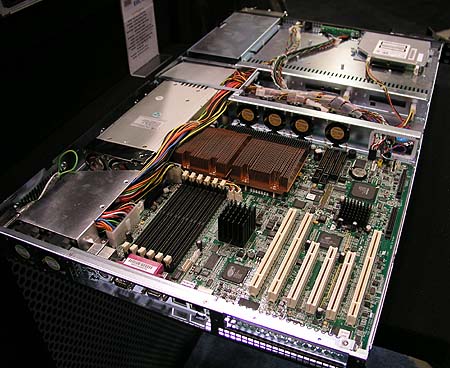 A Lot of Electronics in Only 1U
This Xtore Extreme (www.xtore-es.com) storage server packs a lot of punch in a 1U case, including two CPUs, multiple drives and multiple power supplies.
Copyright © 1981-2019 by The Computer Language Company Inc. All Rights reserved. THIS DEFINITION IS FOR PERSONAL USE ONLY. All other reproduction is strictly prohibited without permission from the publisher.