ultimate load
ultimate load
[

′əl·tə·mət 'lōd

]

(mechanics)

McGraw-Hill Dictionary of Scientific & Technical Terms, 6E, Copyright © 2003 by The McGraw-Hill Companies, Inc.
breaking load, failure load, fracture load, ultimate load
The load which, if placed upon a structure or test piece, is just great enough to break it.
McGraw-Hill Dictionary of Architecture and Construction. Copyright © 2003 by McGraw-Hill Companies, Inc.
ultimate load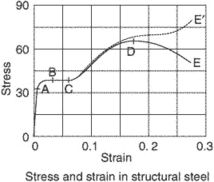 In stress analysis, the minimum load that in its last increment causes a physical breakdown in an aircraft or component during a strength test or a load that, according to computation, should cause such a breakdown. Normally, the ultimate load is higher than 1.5 to 1.7 times the normal load in flight.
From O to A the stress is proportional to the strain and A is the proportional limit. At B, elongation begins and the material becomes plastic. The yield point is thus at C, at which point the material begins to strain harden. Point D represents the maximum tensile stress or the ultimate strength. At E the fracture takes place. E is the ultimate load in this case.
An Illustrated Dictionary of Aviation Copyright © 2005 by The McGraw-Hill Companies, Inc. All rights reserved