undershoot
(redirected from undershoots)
Also found in:
Dictionary
,
Thesaurus
,
Medical
.
undershoot
[

′ən·dər'shüt

]

(control systems)

The amount by which a system's response to an abrupt change in input falls short of that desired.

McGraw-Hill Dictionary of Scientific & Technical Terms, 6E, Copyright © 2003 by The McGraw-Hill Companies, Inc.
undershoot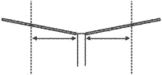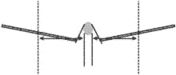 i
. A faulty approach of an airplane, which if continued, will result in its landing short of the desired point.
ii
. The failure to capture a desired flight condition (air speed, altitude) by falling short when approaching that value from below.
iii
. Aircraft weapons impacting short of the desired point of impact.
iv
. An area short of a runway or a taxi track.
underslungi
. Loads carried by a helicopter that are slung below it by a cable.
ii
. A helicopter rotor with its center of gravity below the point at which the rotor is attached to the mast.
An Illustrated Dictionary of Aviation Copyright © 2005 by The McGraw-Hill Companies, Inc. All rights reserved