unicorn
Also found in:
Dictionary
,
Thesaurus
,
Medical
,
Acronyms
,
Idioms
,
Wikipedia
.
unicorn
unicorn
(yo͞oˈnĭkôrn)
, fabulous equine beast with a long horn jutting from the middle of its forehead. Once thought to be native to India, the unicorn was reportedly seen throughout the world. It was often considered as a composite creature, having the features of various animals. The unicorn is depicted as a beautiful animal, usually pure white in color. Said to only be captured by a virgin, it has been used to represent virginity, but also has religious significance in connection with the Virgin Mary and Jesus. The hunting of the unicorn was a subject in tapestries of the late Middle Ages and the Renaissance.
Bibliography
See C. Lavers, The Natural History of Unicorns (2009).
The Columbia Electronic Encyclopedia™ Copyright © 2022, Columbia University Press. Licensed from Columbia University Press. All rights reserved.
Unicorn
(religion, spiritualism, and occult)

The unicorn is a mythical beast, a symbol of supreme power. It is like a horse, but with cloven hooves and a long, single horn protruding from the middle of its forehead. The horn is reminiscent of the twisted tusk of a narwhal, and is made of ivory. The unicorn has a goatlike beard and sometimes is depicted with the hind legs of an antelope and the tail of a lion.

Ctesias, the fourth-century BCE Greek historian, gives the earliest description of a unicorn. He states that in India there were wild white asses with a horn a cubit and a half in length. These beasts were colored white, with blue eyes and red heads, and that the horns were used to make drinking cups that protected from poison. Aristotle also mentions the unicorn, as does Pliny. This belief in the efficacy against poison endured until the time of Charles II of England, when cups of rhinoceros horn were engraved with pictures of unicorns. In France as late as 1789, instruments of "unicorn horn" were used to test royal food for poison.

The unicorn is found in the religion and sacred writings of Persia, in which it is described as having only one horn. The horn is spoken of as being hollow and made of pure gold. Many Buddhist temples contain paintings and sculptures of unicorns, and from Tibet the unicorn is thought to have spread to China, where it is known as the ki-lin. Ki means "male" and lin means "female." The unicorn is indeed thought to be both male and female, equated with the hermaphrodite in alchemy and rich in the symbolism of opposites. The alchemist Lambsprinck's De Lapide Philosophico (Frankfurt, 1625) depicts a stag facing a unicorn. The text says, "A deer and a unicorn are hidden in the forest. Blessed can we call the man who artfully can capture and tame them." The forest is the body, the unicorn the spirit (sulphur, male), the deer is the soul (mercury, female).

Stories of unicorns flourished in medieval times. A sixteenth-century tapestry depicts a young woman holding a mirror and petting a unicorn. The belief was that only a young virgin was innocent enough to capture the beast. Seated alone, in a forest under a tree, the unicorn would come to her and place its head in her lap. There it would permit her to caress it to sleep.

The Witch Book: The Encyclopedia of Witchcraft, Wicca, and Neo-paganism © 2002 Visible Ink Press®. All rights reserved.
The following article is from The Great Soviet Encyclopedia (1979). It might be outdated or ideologically biased.
Unicorn
an old Russian artillery weapon.
One of the extant unicorns—the unicorn cannon—was cast in 1577 by Andrei Chokhov. A new type of unicorn howitzer was invented in 1757 by the Russian artilleryman M. V. Danilov in collaboration with S. A. Martynov and was introduced as armament by P. I. Shuvalov. Unicorns of this type had barrels with a length of 7.5–12.5 calibers with cannonballs weighing from 1.8 to 40 kg. The 246-mm unicorn had a range of up to 4 km. Firing was done with cannonballs, explosive and incendiary shells, bombs, and case shot. Unicorns were used in the Russian artillery as siege, field, cavalry, and mountain guns. They enabled the Russian artillery to accompany its infantry in combat, firing over the heads of the battle formations. Unicorns existed for more than a hundred years, right up to the introduction of rifled guns.
The Great Soviet Encyclopedia, 3rd Edition (1970-1979). © 2010 The Gale Group, Inc. All rights reserved.
unicorn
capturable only by virgins; thus, a test of chastity. [Christian Symbolism: Appleton, 105]
---
unicorn
its horn used to test liquids for poison. [Medieval Legend: EB (1963) XXII, 702]
Allusions—Cultural, Literary, Biblical, and Historical: A Thematic Dictionary. Copyright 2008 The Gale Group, Inc. All rights reserved.
unicorn
1. an imaginary creature usually depicted as a white horse with one long spiralled horn growing from its forehead
2. Old Testament a two-horned animal, thought to be either the rhinoceros or the aurochs: (Deuteronomy 33:17): mistranslation in the Authorized Version of the original Hebrew
Collins Discovery Encyclopedia, 1st edition © HarperCollins Publishers 2005
unicorn
A new company valued at more than one billion U.S. dollars before going public. In 2013, venture capitalist Aileen Lee named the high-profile startups "unicorns" in a TechCrunch article. Nearly 40 at that time, the number of unicorns topped 100 soon after.

A unicorn is a mythological creature depicted as a white horse with a long horn on its forehead, it is said to have great power as well as be a symbol of truth and purity. Unicorns have also been portrayed as combination goat-horse animals. See decacorn.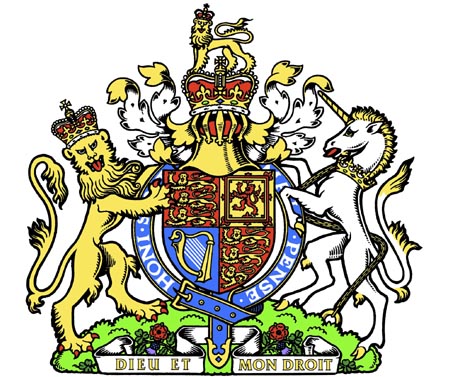 The British Royal Coat of Arms
Dating back to 1837, the official U.K. coat of arms includes a white unicorn as a symbol of great power.
Copyright © 1981-2019 by The Computer Language Company Inc. All Rights reserved. THIS DEFINITION IS FOR PERSONAL USE ONLY. All other reproduction is strictly prohibited without permission from the publisher.