nut
(redirected from use a sledgehammer to crack a nut)
Also found in:
Dictionary
,
Thesaurus
,
Medical
,
Financial
,
Idioms
.
nut
, in botany

nut,

in botany, a dry one-seeded

fruit

which is indehiscent (i.e., does not split open along a definite seam at maturity). Among the true nuts are the acorn, chestnut, and hazelnut. Commonly the word

nut

is used for any seed or fruit having an edible kernel surrounded by a hard or brittle covering. Thus the peanut pod is actually a legume, the Brazil nut is a seed enclosed with others in a capsule, and the almond is part of a drupe, a type of fruit that includes olives and peaches. Others that are not botanically true nuts are the cashew, coconut, lychee, pistachio, and walnut. Most nuts have a high content of oil; in addition they may contain substantial amounts of protein, carbohydrates, minerals, and vitamins. Although nuts were originally harvested from wild trees, this century has seen the increasing cultivation of nut orchards—especially in warmer climates—for commercial production both for food and for byproducts.
Bibliography
See J. G. Woodroof, Tree Nuts (2 vol., 1967); R. A. Jaynes, ed., Handbook of North American Nut Trees (rev. ed. 1973).
---
Nut
, in Egyptian religion

Nut

(no͝ot, nŭt)

, in Egyptian religion, sky-goddess. She was the sister-wife of the earth god Geb, to whom she bore Osiris, Isis, Set, and Nephthys. She was sometimes represented with her hands and feet on the earth and the curve of her body forming the vault of heaven.

The Columbia Electronic Encyclopedia™ Copyright © 2022, Columbia University Press. Licensed from Columbia University Press. All rights reserved.
The following article is from The Great Soviet Encyclopedia (1979). It might be outdated or ideologically biased.
Nut
part of a threaded connection or screw gear, with a threaded hole. A fastening nut in a threaded connection is screwed on the end of a bolt, a stud, the threaded part of a shaft, or an axle to prevent axial shifting of the parts mounted on the axle, such as pulleys or antifriction bearings. The use of locknuts prevents self-unscrewing. In screw gears, the nut has a greater length, which makes possible the maintenance of a small amount of pressure on the surface of the thread, the provision of reliable lubrication, and the prevention of rapid wear and jamming. These nuts are used in gears with motion, power, and load screws, such as those in lathe feeding mechanisms, measuring machines, and lifting jacks. The nuts for rolling-friction screw gears are a special type of nut in which tiny balls roll back and forth along the thread, thus reducing the wear of parts and increasing the efficiency of the gear.
---
Nut
an indehiscent, one-seeded syncarpous lower fruit with a woody pericarp (for example, the fruit of Corylus). The seeds of some pines (for example, Pinus cembra), the drupe of the English walnut, and the dry drupe of the coconut palm are incorrectly called nuts.
The Great Soviet Encyclopedia, 3rd Edition (1970-1979). © 2010 The Gale Group, Inc. All rights reserved.
What does it mean when you dream about a nut?
Nuts symbolize the "squirreling away" of ideas or of one's creativity for a more opportune time for receiving recognition and appreciation. They also represent the "kernel" or the "meat" of an idea or situation.
The Dream Encyclopedia, Second Edition © 2009 Visible Ink Press®. All rights reserved.
nut
[

nət

]

(botany)

A fruit which has at maturity a hard, dry shell enclosing a kernel consisting of an embryo and nutritive tissue.

An indehiscent, one-celled, one-seeded, hard fruit derived from a single, simple, or compound ovary.

(design engineering)

An internally threaded fasterner for bolts and screws.

McGraw-Hill Dictionary of Scientific & Technical Terms, 6E, Copyright © 2003 by The McGraw-Hill Companies, Inc.
nut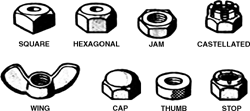 A short metal block having a central hole which is threaded to receive a bolt, screw, or other threaded part. (
See illustraion p. 670
.)
McGraw-Hill Dictionary of Architecture and Construction. Copyright © 2003 by McGraw-Hill Companies, Inc.
nut
1. a dry one-seeded indehiscent fruit that usually possesses a woody wall
2. the edible kernel of such a fruit
3. a small square or hexagonal block, usu. metal, with a threaded hole through the middle for screwing on the end of a bolt
4. Mountaineering a variously shaped small metal block, usually a wedge or hexagonal prism (originally an ordinary engineer's nut) with a wire or rope loop attached, for jamming into a crack to provide security
5.
Music
a. the ledge or ridge at the upper end of the fingerboard of a violin, cello, etc., over which the strings pass to the tuning pegs
b. the end of a violin bow that is held by the player
www.treenuts.org
www.users.globalnet.co.uk/~aair/nuts.htm
www.cooks.com
Collins Discovery Encyclopedia, 1st edition © HarperCollins Publishers 2005