vase
Also found in:
Dictionary
,
Thesaurus
,
Medical
,
Financial
,
Acronyms
,
Wikipedia
.
vase
vase,
vessel of pottery, glass, metal, stone, wood, or synthetic material. The pottery vase was anciently employed as a container for water (a hydria), wine and other products (an amphora), or oil (a lekythus), or for mixing and serving wine and water (a crater). It had one or two handles, sometimes a lip or spout, and frequently a base or foot; sometimes it was pointed to thrust into the ground or was set into a frame holder for support. Large covered vases were used for general storage purposes. The cinerary (cremation) vase, or urn, has been common throughout historical times, a famous one being the
Portland vase
. Modern vases are widely used for flowers. Beautiful in form and embellished with incised patterns, modeled or painted figures or scenes, and sometimes inscriptions, the vase became a work of art in early times. Greek painted vases are in form and color among the most exquisite examples of ancient art. Vases or their fragments discovered in burial chambers and through excavations in various countries serve as records of the manners, customs, and history of their peoples. Buddhist and Christian altar objects include the vase, usually of silver or gold with chased or modeled designs of exquisite workmanship. Bronze and brass are much employed for vases in Asia, as well as porcelain, carved jade, and crystal in China and enamelware in the Satsuma and Kutani vases of Japan. The vase of
cloisonné
is also much in evidence in East Asia. The Persian pottery type is famous for its blue-green color, French Sèvres for miniature medallions, English Wedgwood for cameo reliefs, and American Rookwood for rich tones and underglaze painting.
Bibliography
See J. H. Oakley, The Greek Vase (2013).
The Columbia Electronic Encyclopedia™ Copyright © 2022, Columbia University Press. Licensed from Columbia University Press. All rights reserved.
Vase
A decorative vessel, usually higher than it is wide; used as an architectural ornament, usually on a pedestal, balustrade, or an acroteria on roofs.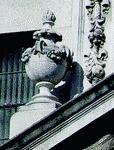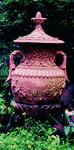 Illustrated Dictionary of Architecture Copyright © 2012, 2002, 1998 by The McGraw-Hill Companies, Inc. All rights reserved
What does it mean when you dream about a vase?
A cracked or broken vase suggests a crack in the dreamer's life—a broken relationship; a weakening outlook; and, possible sorrows ahead.
The Dream Encyclopedia, Second Edition © 2009 Visible Ink Press®. All rights reserved.
bell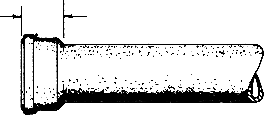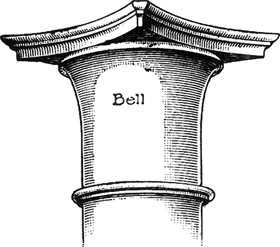 1.
The body of a Corinthian capital or a Composite capital, with the foliage removed; also called a
vase
or
basket
.
2.
The portion of a pipe which is enlarged to receive the end of another pipe of the same diameter for the purpose of making a joint; also called a
hub
.
McGraw-Hill Dictionary of Architecture and Construction. Copyright © 2003 by McGraw-Hill Companies, Inc.
Vase
(dreams)

A vase as a dream symbol usually represents something personal that has value and beauty. It is a holding vessel for water and flowers, which are both deep and meaningful dream symbols. If you are dreaming about a broken vase, you need to consider the areas of life that seem to be falling apart and need mending. It may be your love life, family relationships, career, or any other highly valuable area of life.

Bedside Dream Dictionary by Silvana Amar Copyright © 2007 by Skyhorse Publishing, Inc.