vibrator
Also found in:
Dictionary
,
Thesaurus
,
Medical
,
Wikipedia
.
?
Note: This page may contain content that is offensive or inappropriate for some readers.
vibrator
1.
a. a device for producing a vibratory motion, such as one used in massage or in the distribution of wet concrete in moulds
b. such a device with a vibrating part or tip, used as a dildo
2. a device in which a vibrating conductor interrupts a circuit to produce a pulsating current from a steady current, usually so that the current can then be amplified or the voltage transformed
Collins Discovery Encyclopedia, 1st edition © HarperCollins Publishers 2005
The following article is from The Great Soviet Encyclopedia (1979). It might be outdated or ideologically biased.
Vibrator
in the broad sense, any system in which mechanical, electromagnetic, or other oscillations may be excited—for example, strings, tuning forks, pendulums, and oscillatory circuits.
In engineering, a vibrator is a vibration exciter, or a device for producing mechanical oscillations that is used independently or as a component of vibration machines and equipment. Vibrators are used to compact concrete mixtures in erecting buildings and structures and in the manufacture of sectional reinforced-concrete products; to mechanize the un-loading of bunkers; to compact earth and road surfaces; in vibration conveyors to transport free-flowing and lump materials; to dislodge castings from molding boxes; and to test designs, instruments, and apparatus for strength and stability. The most popular types are centrifugal vibrators, driven by a built-in electric motor, and internal centrifugal vibrators, in which vibrations are produced by the rotation of unbalanced elements. In electrical measurement technology, a vibrator is the moving part of such instruments as a vibration frequency meter.
In radio physics and radio engineering, a vibrator is a segment of a straight conductor, carrying alternating current, which radiates electromagnetic waves (for example, a Hertz dipole). A wire vibrator constitutes the simplest antenna or an element of a more complicated antenna.
REFERENCES
Gorelik, G. S. Kolebaniia i volny: Vvedenie v akustiku, radiofiziku i optiku, 2nd ed. Moscow, 1959.
Gol'dshtein, B. G., and L. P. Petrun'kin. Glubinnye vibratory dlia uplotneniia betona. Moscow, 1966.
Bykhovskii, I. I., and A. M. Vilenkin. Tsentrobezhnyi vibratsionnyi privod stroitel'nykh i dorozhnykh mashin. Moscow, 1968.

I. I. BYKHOVSKII and B. G. GOL'DSHTEIN
The Great Soviet Encyclopedia, 3rd Edition (1970-1979). © 2010 The Gale Group, Inc. All rights reserved.
vibrator
[

′vī'brād·ər

]

(electricity)

An electromechanical device used primarily to convert direct current to alternating current but also used as a synchronous rectifier; it contains a vibrating reed which has a set of contacts that alternately hit stationary contacts attached to the frame, reversing the direction of current flow; the reed is activated when a soft-iron slug at its tip is attracted to the pole piece of a driving coil.

(mechanical engineering)

An instrument which produces mechanical oscillations.

McGraw-Hill Dictionary of Scientific & Technical Terms, 6E, Copyright © 2003 by The McGraw-Hill Companies, Inc.
vibrator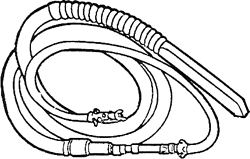 An oscillating, power-operated machine used to agitate fresh concrete so as to eliminate gross voids including entrapped air (but not entrained air) and to produce intimate contact with form surfaces and embedded materials.
McGraw-Hill Dictionary of Architecture and Construction. Copyright © 2003 by McGraw-Hill Companies, Inc.