vierendeel truss
vierendeel truss
A steel open web truss composed of rectangular panels without diagonals, and with rigid joints between all the members.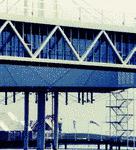 See also: Truss

Illustrated Dictionary of Architecture Copyright © 2012, 2002, 1998 by The McGraw-Hill Companies, Inc. All rights reserved
vierendeel truss, Vierendeel girder
An open-web
truss
having verticals which are rigidly connected to the top and bottom chords but without diagonals.
McGraw-Hill Dictionary of Architecture and Construction. Copyright © 2003 by McGraw-Hill Companies, Inc.