Visor
(redirected from vizorless)
Also found in:
Dictionary
,
Thesaurus
.
visor
, vizor

a small movable screen used as protection against glare from the sun, esp one attached above the windscreen of a motor vehicle
Visor
the front part of a helmet that protects the face from blows of an opponent's silent weapons. The visor was fixed tightly to the helmet or was movable (a liftable visor).
Old Russian helmets had, instead of a visor, a narrow metal plate (a "nose"), which covered the middle part of the face. The Old Russian spiked helmets had a chain-mail net, which hung from the head onto the face and shoulders.
[9-780-l]
Visor
An electronic PDA originally from Handspring, Mountain View, CA (www.handspring.com) that was introduced in 1999 by the people who invented and marketed the PalmPilot. Based on the Palm OS, it was the first handheld to use the USB interface. Later retired, but still supported, Visor can be expanded via its Springboard expansion slot to accommodate hardware and software modules for such applications as business software, games, GPS systems, MP3 players and digital cameras. In 2003, Handspring was acquired by Palm, Inc. and, for a time, the merged company was renamed palmOne, Inc. In 2005, it switched back to Palm, Inc. For more information, visit www.palm.com.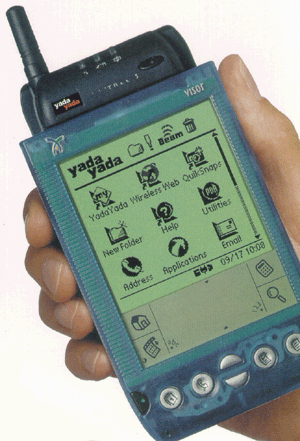 The Visor
The Visor was expandable via its Springboard expansion slot, which in this case held the Yada Yada wireless modem. (Image courtesy of Yada Yada Inc.)