volute
(redirected from volutes)
Also found in:
Dictionary
,
Thesaurus
,
Medical
.
volute
1. a carved ornament, esp as used on an Ionic capital, that has the form of a spiral scroll
2. any of the whorls of the spirally coiled shell of a snail or similar gastropod mollusc
3. any tropical marine gastropod mollusc of the family Volutidae, typically having a spiral shell with beautiful markings
4. a tangential part, resembling the volute of a snail's shell, that collects the fluids emerging from the periphery of a turbine, impeller pump, etc.
5. Machinery moving in a spiral path
volute
[

və′lüt

]

(design engineering)

A spiral casing for a centrifugal pump or a fan designed so that speed will be converted to pressure without shock.
volute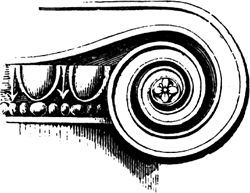 1. A spiral scroll, as on Ionic, Corinthian, or Composite capitals, or on consoles, etc.
2. A stair crook having an easement with a spiral section of stair rail.