wall tie
wall tie
[

′wȯl 'tī

]

(building construction)

A rigid, corrosion-resistant metal tie fitted into the bed joints across the cavity of a cavity wall.
wall tie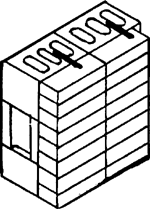 In masonry, a type of anchor (usually a metal strip) used to secure facing to a backup wall or to connect the two withes of a cavity wall; mortared into joints during setting. Also see
butterfly wall tie, cavity wall tie, veneer wall tie
.