dressing
(redirected from warm moist dressing)
Also found in:
Dictionary
,
Thesaurus
,
Medical
.
dressing
1. a covering for a wound, sore, etc.
2. size used for stiffening textiles
Dressing
Masonry and moldings of better quality than the facing materials, used around openings or at corners of buildings.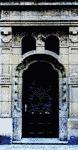 Dressing
a therapeutic and diagnostic procedure in the treatment of wounds that consists of removing old, contaminated dressings, examining and treating the wound and surrounding skin, and applying medication and a fresh bandage.
Aseptic and antiseptic methods must be strictly followed during the dressing procedure. The frequency of dressing and the type of medications used depend on the condition of the wound, which is dressed until completely healed.
dressing
[

′dres·iŋ

]

(agriculture)

Manure or compost used as a fertilizer.

(civil engineering)

The process of smoothing or squaring lumber or stone for use in a building.

(engineering)

The sharpening, repairing, and replacing of parts, notably drilling bits and tool joints, to ready equipment for reuse.

(medicine)

Application of various materials for protecting a wound and encouraging healing.

Material so applied.
dressing, dressings
1. Projecting ornamental moldings and carved decorations of all kinds.
2. Masonry or molding of better quality than the facing brick; used around openings or at corners of buildings; often made of gauged brick.
3. Smoothing a stone surface.
4. Bossing.