washer
Also found in:
Dictionary
,
Thesaurus
,
Medical
,
Financial
,
Acronyms
,
Idioms
,
Wikipedia
.
washer
1. a flat ring or drilled disc of metal used under the head of a bolt or nut to spread the load when tightened
2. any flat ring of rubber, felt, metal, etc., used to provide a seal under a nut or in a tap or valve seat
4. Chemical engineering a device for cleaning or washing gases or vapours; scrubber
5. Austral a face cloth; flannel
Collins Discovery Encyclopedia, 1st edition © HarperCollins Publishers 2005
The following article is from The Great Soviet Encyclopedia (1979). It might be outdated or ideologically biased.
Washer
a machine part mounted under a nut or bolt head. Plain washers (Figure 1, a) are used to increase the load distribution where the load-bearing surface is uneven or of a soft material, where the bolt hole is elongated, or where the hole diameter is enlarged. Bevel washers (Figure l,b) and spherical washers (Figure 1, c) are used to prevent the nut or bolt head from warping during tightening. Open, or C, washers (Figure 1, d) are quick-release types used in fixtures to save time in removing a used part and mounting a new one. Packing washers made of a soft material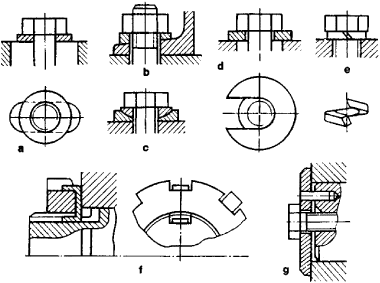 are mounted under the heads of threaded plugs to provide a hermetic seal. Spring lock washers (Figure l,e) reduce the likelihood that a bolt or nut will loosen since the elastic force of the compressed washer acts on the connection. Tab lock washers have sections that can be bent (Figure 1, f) to prevent a nut or bolt from turning with respect to a load-bearing shaft or other part. End plates (Figure 1, g) prevent axial displacement of parts mounted on a shaft (such parts may be held fixed or rotate on the shaft).
The Great Soviet Encyclopedia, 3rd Edition (1970-1979). © 2010 The Gale Group, Inc. All rights reserved.
washer
[

′wäsh·ər

]

(design engineering)

A flattened, ring-shaped device used to improve the tightness of a screw fastener.

(engineering)

A device for removing dirt and soluble impurities from pulp and paper stock.

A system for washing photographic materials to remove soluble products of developing or fixing.

A power-driven machine for washing clothes and household linens. Also known as washing machine.

McGraw-Hill Dictionary of Scientific & Technical Terms, 6E, Copyright © 2003 by The McGraw-Hill Companies, Inc.
washer

A flat ring, usually thin, of metal, rubber, or other material, depending on its use; used to prevent leakage, to provide insulation; used as the bearing surface under the head of a fastener, such as a bolt, to assure tightness, relieve friction, improve stress distribution, or span large clearance holes.
McGraw-Hill Dictionary of Architecture and Construction. Copyright © 2003 by McGraw-Hill Companies, Inc.