water tower
Also found in:
Dictionary
,
Thesaurus
,
Wikipedia
.
water tower
a reservoir or storage tank mounted on a tower-like structure at the summit of an area of high ground in a place where the water pressure would otherwise be inadequate for distribution at a uniform pressure
Water tower
An elevated structure located above the roof of a building to create sufficient pressure to supply the fixtures within the building. Also, can be freestanding and serving entire communities.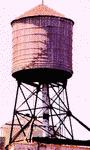 water tower
[

′wȯd·ər 'tau̇·ər

]

(civil engineering)

A tower or standpipe for storing water in areas where ordinary water pressure is inadequate for distribution to consumers.
water tower
A tower into which water is pumped to raise its level high enough above the level of a water distribution system so that the system will be supplied with adequate water pressure.