Watermark
(redirected from watermarks)
Also found in:
Dictionary
,
Thesaurus
,
Financial
.
paper
paper,
thin, flat sheet or tissue made usually from plant fiber but also from rags and other fibrous materials. It is used principally for printing and writing on but has many other applications. The term also includes various types of
paperboard
, such as cardboard and wallboard.
The Formulation of Paper
A quarter to a third of most new paper is made from waste paper. The body of paper is made up of matted cellulose fibers—since c.1860 derived principally from wood. Rags, mostly cotton cuttings from textile and garment factories, are used to make fine stationery and for such purposes as cigarette paper. For other special papers, or where wood is not available, manufacturers may use pressed sugarcane, bamboo, manila rope, cereal straws, esparto grass, or other fibers.
Preparation from Wood Pulp
Most paper is made from wood pulp. Mechanical pulp, or groundwood, prepared by grinding the wood, is used to make newsprint, tissue, towel, and other inexpensive papers. For paper whose whiteness is important, a chemical pulp must be prepared. Lignin, which holds wood fibers together, turns yellow in sunlight and therefore must be removed by alternating treatments with acid and alkaline solutions. The wood pulp, boiled under pressure and treated to dissolve the lignin binder, is thus turned into cellulose fiber. The mixture is then washed and bleached; because the resulting pulp is more than 90% water, the water is usually treated before mixing.
Once the wood pulp has been treated, washed, bleached, screened, and beaten, it is blended to achieve the characteristics required for the intended use. The pulp, suspended in water, is poured over a wire screen in one of two machines that differ mainly in the form of the screen: a belt screen is used in the Fourdrinier machine and a cylindrical one in the cylinder machine. As water drains through the screen, a layer of fibers forms, which in the Fourdrinier is shaken to turn the fibers in different directions so that they mat. A wet felt belt pressed against the screen picks up the paper for feeding through sets of drying rollers. During this stage a rubber roller may be used to imprint a watermark. At the end of the process the paper is passed through a calender (stack of iron rollers), which presses the paper and smooths its surface. Fillers—chiefly clay or starch—are used to improve the printing, texture, and wet and dry strength of paper and to produce other special properties.
Treatment for Special Properties
Book paper is any kind of printing paper except newsprint; in order to prevent rapid deterioration of the paper through a reaction between the acids in the pulp mixture and the humidity in the air, modern book paper is further treated to make it acid-free. For the best reproduction of illustrations, especially halftones, book paper is coated with a layer of mineral pigment, usually clay, mixed with an adhesive. All writing papers are "sized"; i.e., a water-resistant substance such as rosin is added to the pulp to prevent the spreading of writing ink. Hanging paper, or wallpaper, is soft and bulky; it is rosin-sized for water resistance and coated to take a printed design. Bag and wrapping papers are made of kraft paper, the product of the sulfate process, because of its strength.
The Introduction of Paper
Paper is believed to have been invented by Ts'ai Lun c.105 in China, where it reached an advanced state of development. Chinese paper was a mixture of bark and hemp. Papermaking spread to Japan c.610 and to Samarkand c.751, whence it was introduced by the Arabs into Egypt c.900 and by the Moors into Spain at Játiva c.1150. Mills were established in Italy c.1276; in France, c.1348; in Germany, 1390; and in England, 1495. European paper was usually made of flax and hemp. Primitive bark paper had been made in Mexico and Central America in pre-Columbian times. Paper was first produced in the American colonies in 1690 by William Rittenhouse at Germantown.
Bibliography
See J. P. Casey, Pulp and Paper (3d ed., 4 vol., 1983); J. R. Lavigne, Pulp and Paper Dictionary (1986); N. A. Basbanes, On Paper (2013).
The Columbia Electronic Encyclopedia™ Copyright © 2022, Columbia University Press. Licensed from Columbia University Press. All rights reserved.
The following article is from The Great Soviet Encyclopedia (1979). It might be outdated or ideologically biased.
Watermark
a picture in a piece of paper, visible when the paper is held up to the light; it is formed during the process of making the paper.
Watermarks began to appear in Europe in the 13th century, and in Russia in the second half of the 17th century. The study of watermarks and the determination of the exact place and time of the making of a piece of paper are very important for the correct interpretation of a source.
Since 1723, Russia, following the example of other European countries, impressed watermarks on stamped paper (a depiction of the state coat of arms and the words"stamped paper") in order to avoid counterfeiting of official documents and currency. Watermarks are usually made on paper at precise intervals, or they cover the whole field of the paper in the form of a repeated drawing or pattern. They can be used to distinguish genuine money, valuable papers and documents, and stamps from counterfeit items. Watermarks are also used as a means of ornamenting paper. The imprinting of watermarks is usually done with a dandy roll or with cylinders of a cylinder paper-making machine on a wet web of the paper.
The Great Soviet Encyclopedia, 3rd Edition (1970-1979). © 2010 The Gale Group, Inc. All rights reserved.
watermark
[

′wȯd·ər'märk

]

(graphic arts)

A localized modification of the structure and opacity of a sheet of paper so that a pattern or design can be seen when the sheet is held to the light.

McGraw-Hill Dictionary of Scientific & Technical Terms, 6E, Copyright © 2003 by The McGraw-Hill Companies, Inc.
digital watermark
A pattern of bits embedded into a file that is used to identify the source of illegal copies. For example, if a digital watermark is placed into a master copy of an audio CD or DVD movie, then all copies of that disc are uniquely identified. If a licensee were to manufacture and distribute them in areas outside of their authorized territories, the watermark provides a trace.

The watermark developer has to find creative ways of altering the file without disturbing it for the user. It is difficult to embed a watermark within an ASCII file, which is just raw text. However, it is relatively easy to alter a few bits within audio, video and image formats without making a noticeable difference on playback or display.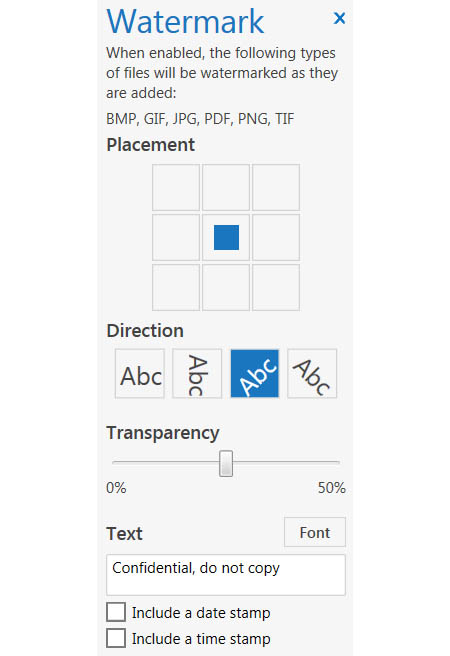 WinZip's Watermark Function
The popular WinZip utility performs numerous functions beyond simply encrypting a file. This is the dialog showing options for adding a digital watermark to certain image files. See WinZip.
Copyright © 1981-2019 by The Computer Language Company Inc. All Rights reserved. THIS DEFINITION IS FOR PERSONAL USE ONLY. All other reproduction is strictly prohibited without permission from the publisher.