wave length
Also found in:
Dictionary
,
Thesaurus
,
Medical
,
Acronyms
,
Wikipedia
.
wave length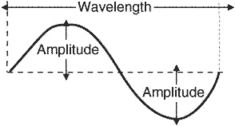 The distance traveled in one period or one cycle by a periodic disturbance. It is the distance between repeating units of a wave pattern. It is commonly designated by the Greek letter lambda (λ). In a sine wave, the wavelength is the distance between peaks. The wavelength λ has an inverse relationship to frequency,
f
, the number of peaks to pass a point in a given time. The wavelength is equal to the speed of the wave divided by the frequency of the wave. The relationship thus is wavelength (λ) = speed of waves (
c
)/frequency (
f
). When dealing with electromagnetic radiation in a vacuum, the speed of the waves (
c
) is the speed of light; when dealing with the speed of signal waves in air, the speed of sound is used for calculation purposes.
The speed of light in a vacuum is 300,000,000 m/s and that of sound at 20°C is 343 m/s. The value of the wavelength of radio waves is equal to 300/frequency in MHz (megahertz).
An Illustrated Dictionary of Aviation Copyright © 2005 by The McGraw-Hill Companies, Inc. All rights reserved