way point, waypoint
way point, waypoint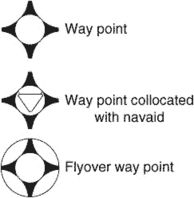 i
. A specified geographical location used to define an area navigation route or the flight path of an aircraft employing area navigation. Waypoints are defined as either: Fly-by waypoint—A fly-by waypoint which requires turn anticipation to allow tangential interception of the next segment of a route or procedure, or Flyover waypoint—A waypoint at which a turn is initiated in order to join the next segment of a route or procedure. (ICAO)
ii
. In military operations, a point or series of points in space to which an aircraft may be vectored or flown.
iii
. A predetermined and accurately known geographical position forming the start or the end of a route segment.
iv
. A designated point, position, or station in which a pilot can key in the radial from a VORTAC (very high frequency omnidirectional radio-range and tactical air navigation) station on which the way-point is to be located and the distance in nautical
miles for the station along a selected radial to locate a destination. In this case, the waypoint may not be a fix or a prominent location.
v
. Geographical or radio aid locations at which a pilot is required to report his or her position to air traffic control (ATC) in accordance with the rules in force. See
compulsory reporting points
.
vi
. GPS (global positioning system) way points. A point or series of points fed into an aircraft GPS at which the aircraft is required to report, turn, or climb/descend.
An Illustrated Dictionary of Aviation Copyright © 2005 by The McGraw-Hill Companies, Inc. All rights reserved