weather vane
Also found in:
Dictionary
,
Thesaurus
,
Medical
,
Acronyms
,
Wikipedia
.
weather vane
or
wind vane,
instrument used to indicate wind direction. It consists of an asymmetrically shaped object, e.g., an arrow or a rooster, mounted at its center of gravity so it can move freely about a vertical axis. Regardless of the design, the portion of the object with greater surface area (usually the tail) offers greater resistance to the wind and thus positions the vane so that the forward part points in the direction from which the wind is blowing. The compass direction of the wind may then be determined by reference to an attached compass rose; alternatively, the orientation of the vane may be relayed to a remote calibrated dial. The wind vane must be mounted at a distance from the nearest obstacle equal to at least twice the height of the obstacle above the vane if the observed wind direction is to be representative of meteorologically significant wind patterns; for this reason, the vane is often mounted on a pole or tower that is in turn mounted on the roof of a tall building.

The Columbia Electronic Encyclopedia™ Copyright © 2013, Columbia University Press. Licensed from Columbia University Press. All rights reserved.

www.cc.columbia.edu/cu/cup/
weather vane
A metal plate, often decorated, or in the shape of a figure or object, which rotates freely on a vertical spindle to indicate wind direction; usually located atop a spire or other elevated position on a building.
McGraw-Hill Dictionary of Architecture and Construction. Copyright © 2003 by McGraw-Hill Companies, Inc.
weather vane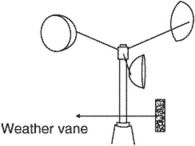 A device that shows the direction the wind is blowing.
An Illustrated Dictionary of Aviation Copyright © 2005 by The McGraw-Hill Companies, Inc. All rights reserved
weather vane
a vane designed to indicate the direction in which the wind is blowing
Collins Discovery Encyclopedia, 1st edition © HarperCollins Publishers 2005