web
Also found in:
Dictionary
,
Thesaurus
,
Medical
,
Financial
,
Acronyms
,
Idioms
,
Wikipedia
.
web
1. a mesh of fine tough scleroprotein threads built by a spider from a liquid secreted from its spinnerets and used to trap insects
2. a similar network of threads spun by certain insect larvae, such as the silkworm
3. a fabric, esp one in the process of being woven
4. a membrane connecting the toes of some aquatic birds or the digits of such aquatic mammals as the otter
5. the vane of a bird's feather
6. Architect the surface of a ribbed vault that lies between the ribs
7. the central section of an I-beam or H-beam that joins the two flanges of the beam
8. any web-shaped part of a casting used for reinforcement
9. the radial portion of a crank that connects the crankpin to the crankshaft
10. a thin piece of superfluous material left attached to a forging; fin
11. the woven edge, without pile, of some carpets
Collins Discovery Encyclopedia, 1st edition © HarperCollins Publishers 2005
The following article is from The Great Soviet Encyclopedia (1979). It might be outdated or ideologically biased.
Web
construction element in the form of a beam whose height constitutes a considerable part of the span that it covers. Webs, usually having a right-angled cross section, are used in reinforced concrete components of industrial buildings, elevators, and the like. The distribution of stresses in webs differs from the distribution of stresses in ordinary beams; the normal stresses in the cross sections of webs are distributed according to a curvilinear law, with the neutral axis (during application of a vertical load) located closer to the tensed edge of the cross section. Webs are calculated by the methods of the theory of elasticity.
The Great Soviet Encyclopedia, 3rd Edition (1970-1979). © 2010 The Gale Group, Inc. All rights reserved.
What does it mean when you dream about a web?
Dreaming about being caught in a web is likely a straightforward representation of some sticky situation we feel caught in, or that we might get caught in. We also talk about a "web of lies" or "a tangled web." In the contemporary world, dreaming about a spider web might be a symbolic way of referring to the Internet—the "worldwide web."
The Dream Encyclopedia, Second Edition © 2009 Visible Ink Press®. All rights reserved.
web
[

web

]

(architecture)

The portion of a ribbed vault between ribs.

(civil engineering)

The vertical strip connecting the upper and lower flanges of a rail or girder.

(graphic arts)

The continuous length of paper formed when paper pulp moves through a papermaking machine; the web is then cut into sheets or wrapped onto rolls.

(materials)

In a grain of propellant, the minimum thickness of the grain between any two adjacent surfaces.

(mechanical engineering)

For twist drills and reamers, the central portion of the tool body that joins the loads.

(metallurgy)

In forging, the thin section of metal remaining at the bottom of a depression or at the location of the punches.

(optics)

(textiles)

A fabric as it is being woven on a loom.

(vertebrate zoology)

The membrane between digits in many birds and amphibians.
---
Web
[

web

]

(computer science)

McGraw-Hill Dictionary of Scientific & Technical Terms, 6E, Copyright © 2003 by The McGraw-Hill Companies, Inc.
web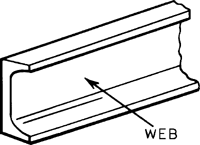 1. The portion of a truss or girder between the chords or flanges, whose principal function is to resist shear on the span.
McGraw-Hill Dictionary of Architecture and Construction. Copyright © 2003 by McGraw-Hill Companies, Inc.
WEB
(language)

Donald Knuth

's self-documenting

literate programming

, with algorithms and

documentation

intermixed in one file. They can be separated using

Weave

and Tangle. Versions exist for

Pascal

and

C

.

Spiderweb

can be used to create versions for other languages.

FunnelWeb

is a production-quality literate-programming tool.

ftp://princeton.edu/

,

ftp://labrea.stanford.edu/

.

["Literate Programming", D.E. Knuth, Computer J 27(2):97-111, May 1984].
Web
(World-Wide Web)

This article is provided by FOLDOC - Free Online Dictionary of Computing (foldoc.org)
World Wide Web
(1) (WorldWideWeb) The first Web browser, written by Tim Berners Lee and introduced in early 1991. It ran on the NeXT platform, which was also used as the first Web server. See NeXT.

(2) (World Wide Web) An Internet-based system that enables an individual or a company to publish itself to the entire world, except in countries or locations that prohibit the free interchange of information. The Web is the world's largest online shopping mall and the world's largest source of information, news and commentary. To understand the difference between the Web and the Internet, see Web vs. Internet.

Web Infrastructure
The "Web" is made up of "Web servers," which are computers that store and disseminate "Web pages" to anyone with an Internet connection. Web pages are interactive documents that contain text, graphics, animations and videos. The pages often contain embedded programs that cause them to function the same as software that users install in their computers, smartphones or tablets. As a result, the Web is a "global server" that provides a source of all applications and data (see Web 2.0).

Hyperlinks and Web Addresses
The heart of the Web is the hyperlink, which connects each page to each other by address, whether the document is on the same website or on a site half way around the world. In the mid-1990s, the novel concept of "click here" (click the hyperlink) caused the Web to explode. The address of a website or Web page within the site is officially known as the "uniform resource locator." To get anywhere in the technolgoy business, you must understand the term "URL" (see URL).

The Web Browser
Web pages are accessed by the user via a Web browser application such as Internet Explorer (IE), Firefox and Safari. The browser renders the pages on screen, executes embedded scripts and invokes additional software as needed. For example, Flash animations and video are rendered by Flash plug-in software that is tailored to each type of Web browser.

HTML Is the Rendering Format
A Web page is a text document coded with HTML tags that define how the text and graphics are displayed on screen. Web pages can be created with any text editor or word processor. They are also created in HTML authoring programs that provide a graphical interface for designing the layout, and such programs generate the HTML tags behind the scenes. Many applications export documents directly to HTML, thus basic Web pages can be created in numerous ways without HTML coding. The ease of page creation helped fuel the Web's growth.

The HTML codes define the page layout as well as certain basic interactions; however, it is the embedded scripts written in JavaScript that make the Web page function like a full-blown application. See HTML5.

Websites Are Made Up of HTML Files
A website is a collection of Web pages, each of which is an HTML file. Large organizations deploy their public websites either on in-house servers, on their own servers co-located in a facility that provides power and Internet access or on servers in a cloud service (see cloud computing). Such public sites may contain hundreds and thousands of pages and databases that hold millions of records.

Web Hosting
Small to medium websites are often maintained by third-party hosting companies for fees that start as little as USD $5 a month. They can also be hosted by the same Internet service providers (ISPs) that deliver Internet access to the building. For individuals who want their own website, many ISPs host a personal site at no extra cost, but it is typically limited by size and traffic.

The Intranet
The public Web spawned the private "intranet," an in-house website for employees. Protected via a firewall that lets employees access the Internet, the firewall restricts uninvited users from viewing internal information. There is no difference in hardware and software architecture between a private website (intranet) and a public website. The difference is who has access.

HTTP Can Deliver Anything
HTML pages are transmitted to the user via the HTTP protocol. A Web server stores HTML pages for a website, but it can also be a storehouse for any kind of file delivered to a client application via HTTP. For example, the Windows version of this encyclopedia is available as an HTTP application. The content is hosted on the Computer Language Company's Web server and delivered to the encyclopedia client program in the user's PC. The Windows client is an HTTP-enabled version of the popular interface first introduced in 1996 for stand-alone PCs.


Where It Came From - Where It's Going

The Web was developed at the European Organization for Nuclear Research (CERN) in Geneva from a proposal by Tim Berners-Lee in 1989. It was created to share research information on nuclear physics. In 1991, the first command line browser was introduced. By the start of 1993, there were approximately 50 Web servers, and the Voila X Window browser provided the first graphical capability. In that same year, the graphics-based Mosaic browser was introduced (see Mosaic), CERN launched its Macintosh browser, and the National Center for Supercomputing Applications (NCSA) in Chicago debuted the X Window version of Mosaic.

From a Couple Hundred to a Trillion URLs
By 1994, there were approximately 500 websites, and, by the start of 1995, nearly 10,000. By the turn of the century, there were more than 30 million registered domain names. A decade later, more than a hundred million new domains were added. In 2010, Google claimed it found a trillion unique addresses (URLs) on the Web as it maneuvered from site to site to populate its search engine.

Everyone Has a Vested Interest
ISPs, cable and telephone companies want to sell more connectivity. Webmasters want visitors. IT managers want security. The publishing industry wants to preserve its copyrights. Software publishers want to sell more Web-based products, and hardware companies want to sell more Internet infrastructure.

From Anywhere to Anywhere
Using Web-based protocols and mobile devices, the Web has enabled anyone within reach of a cell tower to monitor or analyze an activity anywhere on the planet as well as obtain information and make every conceivable business transaction no matter the time of day. The Web has an exciting future. See first website, Web 2.0, Internet, HTTP, HTML, World Wide Wait and Wild Wooly Web.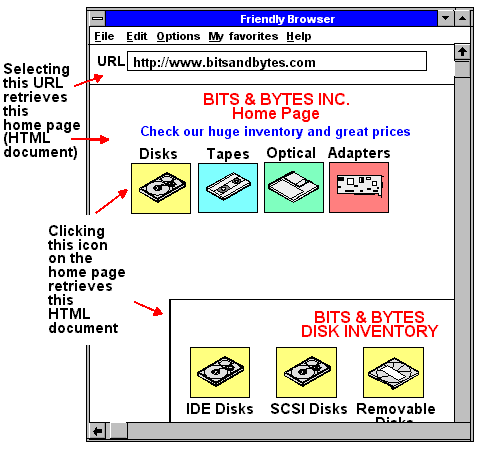 Web Linking
Accessing a Web document requires typing in the URL (Uniform Resource Locator) address of the home page in your Web browser. The home page contains links to other documents that can be stored on the same server or on a server anywhere in the world.
Copyright © 1981-2019 by The Computer Language Company Inc. All Rights reserved. THIS DEFINITION IS FOR PERSONAL USE ONLY. All other reproduction is strictly prohibited without permission from the publisher.