wind gauge
Also found in:
Dictionary
,
Thesaurus
,
Medical
,
Wikipedia
.
wind gauge
2. Music a device for measuring the wind pressure in the bellows of an organ
Collins Discovery Encyclopedia, 1st edition © HarperCollins Publishers 2005
The following article is from The Great Soviet Encyclopedia (1979). It might be outdated or ideologically biased.
Wind Gauge
an instrument used to determine the direction and velocity of the wind.
Wind direction (see Figure 1) is determined from the position of a pointer consisting of two vanes (1) arranged at an angle and a counterweight (2). The pointer is attached to a metal tube (3) and rotates freely on a steel rod. Wind causes the pointer to orient itself in such a way that the counterweight faces the direction of the oncoming wind. Mounted on the rod is a sleeve (4) with pegs pointing to the principal points of the compass. The direction of the wind is determined from the position of the counterweight relative to the pegs.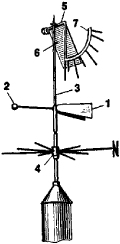 The velocity of the wind is measured with the aid of a metal plate or wooden board (6) that hangs plumb from a horizontal pin (5). The plate rotates about the vertical axis together with the pointer; wind causes it to be oriented perpendicular to the flow of air. Deviation of the plate from the plumb position is determined by the force, or speed, of the wind; the deviation angle can be read from the arc (7).
Wind gauges are mounted on masts 10–12 m above ground level.
REFERENCE
Sternzat, M. S. Meteorologicheskie pribory i nabliudeniia. Leningrad, 1968.
The Great Soviet Encyclopedia, 3rd Edition (1970-1979). © 2010 The Gale Group, Inc. All rights reserved.