wind shear
Also found in:
Dictionary
,
Acronyms
,
Wikipedia
.
wind shear,
a sudden, drastic change in wind direction or speed over a comparatively short distance. Most winds travel horizontally, as does most wind shear, but under certain conditions, including thunderstorms and strong frontal systems, wind shear will travel in a vertical direction. Microburst wind shear is an extremely violent downward blast of air that hits the earth and radiates outward. With its sharp shifts in wind direction and relative wind speed, it can cause an aircraft to lose lift and crash, especially during takeoff or landing, when the slower speeds and closeness to the ground make altitude correction more difficult. Since 1996 all U.S. airliners have been required to be equipped with instruments that provide the pilot with advance warning of wind shear. See also weatherweather,
state of the atmosphere at a given time and place with regard to temperature, air pressure (see barometer), wind, humidity, cloudiness, and precipitation. The term weather
.....

Click the link for more information.

and windwind,
flow of air relative to the earth's surface. A wind is named according to the point of the compass from which it blows, e.g., a wind blowing from the north is a north wind.
.....

Click the link for more information.

.

The Columbia Electronic Encyclopedia™ Copyright © 2013, Columbia University Press. Licensed from Columbia University Press. All rights reserved.

www.cc.columbia.edu/cu/cup/
wind shear
[

′win 'shir

]

(meteorology)

The local variation of the wind vector or any of its components in a given direction.

McGraw-Hill Dictionary of Scientific & Technical Terms, 6E, Copyright © 2003 by The McGraw-Hill Companies, Inc.
wind shear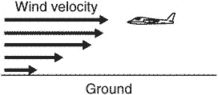 The rate of change in the wind velocity in space, considered as a vector. A vertical shear is a change in the wind velocity with height, whereas a horizontal shear is the change in the wind with the horizontal distance perpendicular to the flow.
An Illustrated Dictionary of Aviation Copyright © 2005 by The McGraw-Hill Companies, Inc. All rights reserved