windlass
Also found in:
Dictionary
,
Thesaurus
,
Wikipedia
.
winch
winch, mechanical device for hauling or lifting consisting essentially of a movable drum around which a cable is wound so that rotation of the drum produces a drawing force at the end of the cable. A windlass is essentially the same device as a winch, except that a winch may be power-driven whereas a windlass is usually hand-powered and somewhat less sophisticated. Winches are normally equipped with a ratchet wheel and a pawl to prevent slippage of the load, and brakes that allow a load to be lowered or released at a controlled rate. A hoist is another closely related device, mounted so as to be movable (as in a traveling crane). Winches and hoists are widely used in cargo handling, e.g., in ships, factories, and warehouses, and also function as the power unit in derricks, power cranes, and power shovels. A car puller is a winch with a vertical drum axis, used to position railroad cars in freight yards. Certain military and construction vehicles designed for off-road use are equipped with engine-powered winches that can be used for lifting and hauling or to extricate the vehicle should it become stuck in areas where traction is poor.
The Columbia Electronic Encyclopedia™ Copyright © 2022, Columbia University Press. Licensed from Columbia University Press. All rights reserved.
Windlass
A device for hoisting materials consisting usually of a horizontal cylinder turned by a lever or crank. A cable attached to the material winds around the cylinder as the crank is turned, raising the load to whatever position is desired.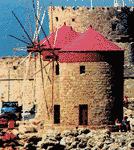 Illustrated Dictionary of Architecture Copyright © 2012, 2002, 1998 by The McGraw-Hill Companies, Inc. All rights reserved
windlass
[

′win·dləs

]

(naval architecture)

McGraw-Hill Dictionary of Scientific & Technical Terms, 6E, Copyright © 2003 by The McGraw-Hill Companies, Inc.
windlass
A modification of the wheel and axle used for lifting weights; usually an axle, turned by a crank, and a rope or chain wound around the axle for raising the weight.
McGraw-Hill Dictionary of Architecture and Construction. Copyright © 2003 by McGraw-Hill Companies, Inc.
windlass
a machine for raising weights by winding a rope or chain upon a barrel or drum driven by a crank, motor, etc.
Collins Discovery Encyclopedia, 1st edition © HarperCollins Publishers 2005