back
(redirected from with back to the wall)
Also found in:
Dictionary
,
Thesaurus
,
Medical
,
Idioms
.
Back,
river, c.600 mi (970 km) long, rising in lakes, Northwest Territories, Canada, and flowing northeast through Nunavut across the tundra to Chantry Inlet. Numerous lakes lie along its course. It is named for Sir George BackBack, Sir George,
1796–1878, British explorer in N Canada. He accompanied Sir John Franklin on arctic expeditions in 1818, 1819–22, and 1824–27. On an expedition (1833–35) to search for the missing John Ross, Back explored the Great Fish River (now Back
.....

Click the link for more information.

, the first European to descend the river (1834).
What does it mean when you dream about the back?
Because of the dreaming mind's tendency to literalize metaphors, the back can signify meanings from familiar sayings. For example, in a dream the back may mean "watch your back" (beware of treachery).
back
[

bak

]

(anatomy)

The part of the human body extending from the neck to the base of the spine.

(graphic arts)

The part of a book where the binding and pages are stitched together.

(mining engineering)

The upper part of any mining cavity.

A joint, usually a strike joint, perpendicular to the direction of working.
back
1. The rear, reverse, unseen, more remote, or less important part of a structure, tool, or object
2. The support for a more prominent or visible element; e.g., the back of wallboard is the surface to be plastered.
3. The top or exposed side of a slate, tile, or the like, in contrast to the bed.
4. The ridge or top of a horizontal member or structure like a joist, rafter, or roof.
5. A principal rafter.
6. The extrados or top surface of an arch, often buried in the surrounding masonry.
7. A low-grade veneer used for the back ply in plywood construction.
8. The wainscoting below the sash frame of a window, extending to the floor.
back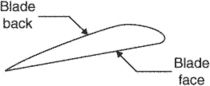 i
. The curved surface of a propeller blade. It corresponds to the upper surface of the airplane's wing. Also called a
blade back
.
ii
. The back of the power curve, where any decrease in speed results in a disproportional increase in drag. A stage may be reached when even with full power the aircraft may continue to sink. Also referred to as
behind the power curve
and
backside of the power curve
.
iii
. The top part or the upper surface area of an airplane, especially of an airplane's fuselage, referred to in such contexts as "to fly on its back."
iv
. The back seat (rear cockpit) of a two-seater combat or trainer aircraft.
v
. The changing of wind direction in the anti-clock-wise direction. When the wind direction changes in the anticlock-wise direction, it is called
backing
when the change is clock-wise, it is called
veering
.
back
1
1.
Ball games
a. a mainly defensive player behind a forward
b. the position of such a player
2. the upper surface of a joist, rafter, slate, tile, etc., when in position
---
back
2
a large tub or vat, esp one used by brewers