ADO
(redirected from without further ado)
Also found in:
Dictionary
,
Thesaurus
,
Medical
,
Acronyms
,
Idioms
.
Ado
Ado
(äˈdō)
, city (1987 est. pop. 287,000), SW Nigeria. Located in a region where rice, corn, cassava, and yams are grown. Traditionally an important cotton-weaving town, Ado also manufactures bricks, tile, and pottery. Ado was the capital of the
Yoruba
Ekiti state that was probably founded in the 15th cent. It alternated between independence and subjection to
Benin
until the British gained control in 1894. The city is sometimes known as Ado-Ekiti.
The Columbia Electronic Encyclopedia™ Copyright © 2022, Columbia University Press. Licensed from Columbia University Press. All rights reserved.
The following article is from The Great Soviet Encyclopedia (1979). It might be outdated or ideologically biased.
Vabbe, Adolf (Ado) Georgievich
Born Mar. 19 (31), 1892, in Tapa; died Apr. 20, 1961, in Tartu. Soviet painter and graphic artist. Honored Art Worker of the Estonian SSR (1946).
Vabbe studied in Munich at the studio of A. Ažbè (1911-13). He was a founding member of the "Pallas" group in Tartu (1918). Vabbe taught in Tartu at the Pallas Higher School of Art (1919-40), at the K. Mägi Higher School of Art (1940-41), and at the Art Institute (1944-50). From 1938 he held the rank of professor. Vabbe's students included A. Bach-Liimand, A. Johani, and E. Kits. During the years 1953-56, Vabbe directed an experimental graphic workshop in Tallinn. He was influenced by impressionism and futurism (the paintings In the Café, 1918, private collection, Tartu; River Port, 1938, and Family With an Automobile, 1960—both in the Tartu Art Museum). Vabbe also made a notable contribution to the development of Estonian book graphics.
REFERENCE
Professor A. Vabbe: Kataloog. Tartu, 1962.

The Great Soviet Encyclopedia, 3rd Edition (1970-1979). © 2010 The Gale Group, Inc. All rights reserved.
ADO
This article is provided by FOLDOC - Free Online Dictionary of Computing (foldoc.org)
ADO
(ActiveX Data Objects) A programming interface from Microsoft that is designed as "the" Microsoft standard for data access. First used with Internet Information Server, ADO is a set of COM objects that provides an interface to OLE DB. The three primary objects are Connection, Command and Recordset. The Connection object establishes a connection with a particular database management system (DBMS) or other data source. It can also send a query to the database. The Command object is an alternate way of sending a query to the database, and the Recordset object contains the resulting answer, which is a group of records. See OLE DB, RDO, DAO and ODBC.

Object Libraries
ADO provides several object libraries for processing data. ADODB (ADO DataBase) is used to establish connections and retrieve recordsets. ADOX (ADO eXtension for Data Definition Language and Security) is used to create a database schema and create tables as well as deal with security issues. JRO (Jet and Replication Objects) is used to replicate and compact Microsoft Jet databases.

ADO.NET
ADO.NET is the .NET version of ADO, which is substantially different from ADO. It supports XML documents and relies on .NET Data Providers as an interface layer between the application and the databases.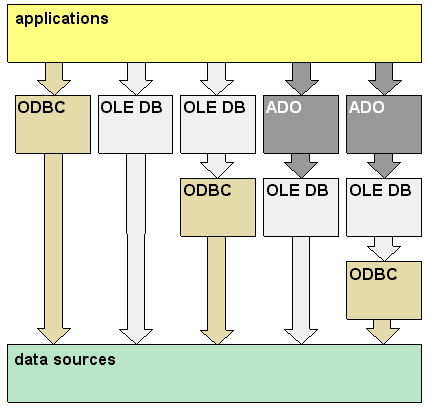 ADO Interfaces
These are the various ways applications can access data sources using ADO and other Microsoft interfaces.
Copyright © 1981-2019 by The Computer Language Company Inc. All Rights reserved. THIS DEFINITION IS FOR PERSONAL USE ONLY. All other reproduction is strictly prohibited without permission from the publisher.