workstation
Also found in:
Dictionary
,
Thesaurus
,
Medical
,
Legal
,
Financial
,
Acronyms
,
Wikipedia
.
workstation
(computer)

A general-purpose computer designed to be used by one person at a time and which offers higher performance than normally found in a

personal computer

, especially with respect to graphics, processing power and the ability to carry out several tasks at the same time.
workstation
(1) A high-performance, single-user machine geared to the professional rather than the consumer. Employed for video editing, computer-aided design (CAD), software development, medical imaging and scientific applications, workstations use a fast multicore CPU with large amounts of memory (RAM) and storage. Today, a workstation is typically an x86-based computer running Windows, Linux or Mac OS X. In the past, RISC-based machines from Sun, HP, IBM and SGI fell into the workstation category.

(2) Any terminal or desktop computer in a network. In this context, workstation is a generic term for a user's machine (client machine) in contrast to a "server" or "mainframe."

(3) In the telecom industry, a combined telephone and computer.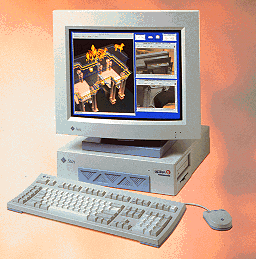 Earlier Workstations
These Unix-based Sun, Compaq and SGI workstations (top to bottom) were employed for CAD, medical imaging and scientific visualization. Using monitors with the highest resolution, they pushed the performance envelope, although today's PCs and Macs are far more powerful. (Images courtesy of Sun, Compaq and SGI.)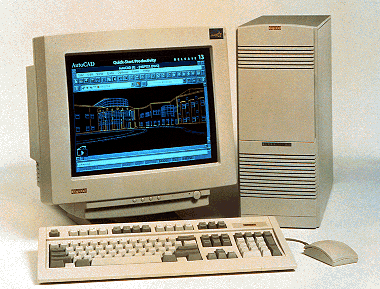 Earlier Workstations
These Unix-based Sun, Compaq and SGI workstations (top to bottom) were employed for CAD, medical imaging and scientific visualization. Using monitors with the highest resolution, they pushed the performance envelope, although today's PCs and Macs are far more powerful. (Images courtesy of Sun, Compaq and SGI.)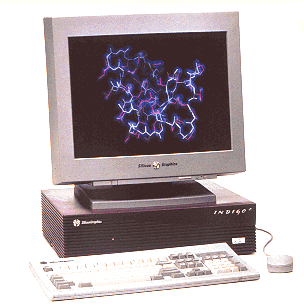 Earlier Workstations
These Unix-based Sun, Compaq and SGI workstations (top to bottom) were employed for CAD, medical imaging and scientific visualization. Using monitors with the highest resolution, they pushed the performance envelope, although today's PCs and Macs are far more powerful. (Images courtesy of Sun, Compaq and SGI.)