wreath
Also found in:
Dictionary
,
Thesaurus
,
Medical
,
Wikipedia
.
wreath
1. a band of flowers or foliage intertwined into a ring, usually placed on a grave as a memorial or worn on the head as a garland or a mark of honour
2. a spiral or circular defect appearing in porcelain and glassware
Collins Discovery Encyclopedia, 1st edition © HarperCollins Publishers 2005
wreath
A decorative element in the form of a garland or band of foliage; often intertwined with flowers, fruits, and ribbons.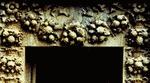 See also: Ornament

Illustrated Dictionary of Architecture Copyright © 2012, 2002, 1998 by The McGraw-Hill Companies, Inc. All rights reserved
Wreath
Americans recognize the evergreen wreath as a Christmas symbol. Many people hang them on their front doors at Christmas time or display them in other parts of the house. No one seems to know the exact history of this custom. Some speculate that the front door wreath evolved out of the older, German Advent wreath. Others suppose it to be an old Irish custom.

The English word "wreath" comes from the old Anglo-Saxon verb writhan, meaning "to writhe" or "to twist." Indeed, Christmas wreaths are made by bending or twisting branches of greenery into a circular shape.

Wreaths have served as powerful symbols for millennia. In ancient Greece and Rome wreaths of greenery worn as crowns sat on the brows of those believed to have won divine favor. Thus, wreaths adorned the heads of sacrificial animals, winners of athletic and artistic competitions, participants in religious festivals, and kings. The type of greenery used to make the wreath also sent a message. Winners of athletic and literary contests donned wreaths of laurel. Wreaths of ivy circled the brows of those honoring the wine god, Dionysus or Bacchus. Those whose achievements brought about military victories or peace wore wreaths of olive. The Bible also makes frequent mention of wreaths, usually associating them with joy, triumph, and honor. As Christianity developed its own symbolic code, it turned the laurel wreath into a sign of the attainment of salvation. In more general terms, the wreath represents the same thing as the circle, often interpreted as a symbol of eternity.

Further Reading

Becker, Udo, ed. "Wreath." In his The Continuum Encyclopedia of Symbols. New York: Continuum, 1994. Palmer, Geoffrey, and Noel Lloyd. A Year of Festivals. London, England: Frederick Warne, 1972. Thompson, Sue Ellen, ed. Holiday Symbols. Detroit, Mich.: Omnigraphics, 1998. Webber, F. R. Church Symbolism. Second edition, revised. 1938. Reprint. Detroit, Mich.: Omnigraphics, 1992. Weiser, Francis X. The Christmas Book. 1952. Reprint. Detroit, Mich.: Omnigraphics, 1990.
Encyclopedia of Christmas and New Year's Celebrations, 2nd ed. © Omnigraphics, Inc. 2003
wreath
1.
The curved portion of the string or handrail which follows a turn in a geometrical stair, usually a quarter circle, and therefore corresponds to a portion of the surface of a vertical cylinder; also called a
wreath piece
.
2. A twisted band, garland, or chaplet, representing flowers, fruits, leaves, etc.; often used in decoration.
McGraw-Hill Dictionary of Architecture and Construction. Copyright © 2003 by McGraw-Hill Companies, Inc.