Xanthine
Also found in:
Dictionary
,
Thesaurus
,
Medical
,
Acronyms
,
Wikipedia
.
xanthine
[

′zan'thēn

]

(organic chemistry)

C5H4N4O2 A toxic yellow-white purine base that is found in blood and urine, and occasionally in plants; it is a powder, insoluble in water and acids, soluble in caustic soda; sublimes when heated; used in medicine and as a chemical intermediate. Also known as dioxopurine.
Xanthine
(2,6-dioxopurine) an intermediate product of the metabolic degradation of purine bases. Its structural formula is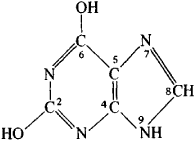 Xanthine forms yellow crystals. Its melting point is 220°C (with decomposition), and its molecular weight is 152.12. Xanthine dissolves poorly in water and better in alcohol. It displays the properties of a weak acid and a weak base. Widely found in nature (in small amounts), it is formed during the hydrolytic deamination of guanine or as a result of the aerobic oxidation of hypoxanthine in the presence of the enzyme xanthine oxidase. This enzyme also oxidizes xanthine to the final product of purine metabolism in man—uric acid—and this serves as a basis for xanthine determination. When this stage of xanthine metabolism is disrupted, xanthine accumulates in the body, primarily in the form of calcium salts (urinary calculus).