zenithal projection
(redirected from zenithal projections)
Also found in:
Dictionary
.
zenithal projection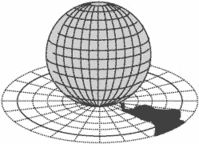 A projection of the graticule of the reduced earth onto a plane placed tangential to the reduced earth at a point. Depending on whether the point of tangency is the pole or the equator or some other point, they are referred to as a
polar
,
equatorial
, or
oblique azimuthal projection
. These are not true geometrical projections. Also called an
azimuthal projection
.
An Illustrated Dictionary of Aviation Copyright © 2005 by The McGraw-Hill Companies, Inc. All rights reserved