zero-lift angle
zero-lift angle
[

′zir·ō ¦lift ′aŋ·gəl

]

(aerospace engineering)

The angle of attack of an airfoil when its lift is zero.

McGraw-Hill Dictionary of Scientific & Technical Terms, 6E, Copyright © 2003 by The McGraw-Hill Companies, Inc.
zero-lift angle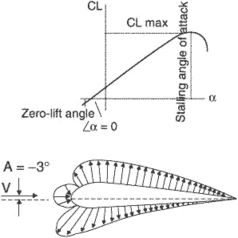 The angle of attack at which an airfoil does not produce any lift. Its value is generally less than zero unless the airfoil is symmetrical.
An Illustrated Dictionary of Aviation Copyright © 2005 by The McGraw-Hill Companies, Inc. All rights reserved